---
"Big Cobra by San San Oo"
---
Our icons © applied on the modules will allow you to make quick and easy joints
---
Our Video-Tutorials © will guide you step by step until your masterpiece is completed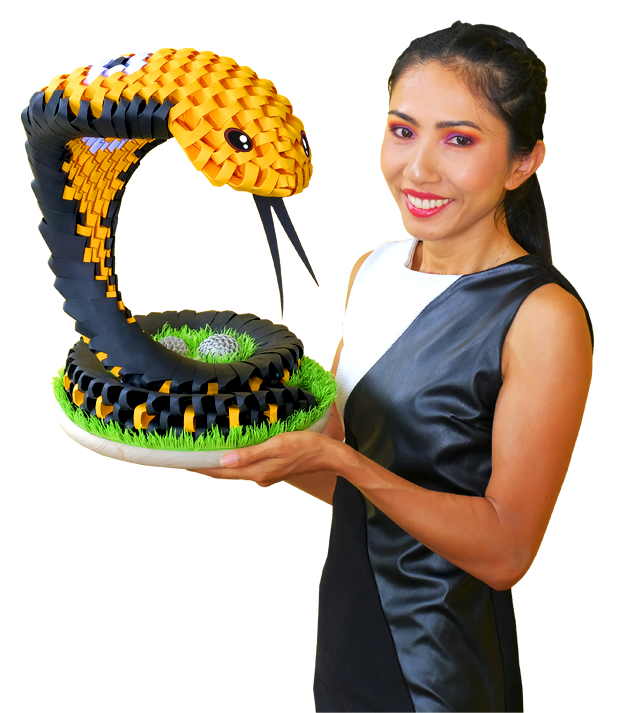 ---
Mrs. San San Oo
3D Origami Artist
---
Mrs. San San was born in Myanmar and since she was a child she learned the noble art of classical origami from her grandfather, and then moved on to modular 3D origami a few years later, gradually becoming an esteemed artist both in her country of birth than in the rest of the world.
---
Let your dreams come true...
"Ying 3D Origami" the beginning...
It all began in Thailand, where an Italian man met a Burmese lady and they started a partnership that continues today.
After years of hard work, "Ying 3D Origami" begins a new era with the restyling of the "Golden Venture Folding" technique with their "3D Origami sets" and in 2015 they proudly announce the launch on the market of fantastic "3D modular origami sets" thus allowing anyone to become an artist and create fantastic paper sculptures, with pre-marked cardboard © + step by step printed instructions + amazing video-tutorial.
"Ying 3d Origami" have been in constant evolution and today we can proudly say that we have found a serious and honest "Publisher" with whom we have established a real partnership of trust, with over 40 years of experience in the production of board and educational games, which allowed us to present our "3D origami sets" to the whole world.
We are constantly evolving, stay connected and follow us on our social channels.
---
Our "icons" © specially designed by Ying 3D origami to facilitate the connection of 3D modules
---
Our 3D Origami sculptures , Discover all the fantastic sets currently already available